Posted on behalf of Maltelec:
Maltelec
Site Admin
Joined: 23 Sep 2007
Posts: 156
Location: Cumbria, UK
Posted: Fri Nov 06, 2009 11:46 pm Post subject: JohnLanark's new Boat
Here are 2 pictures of John's new hull.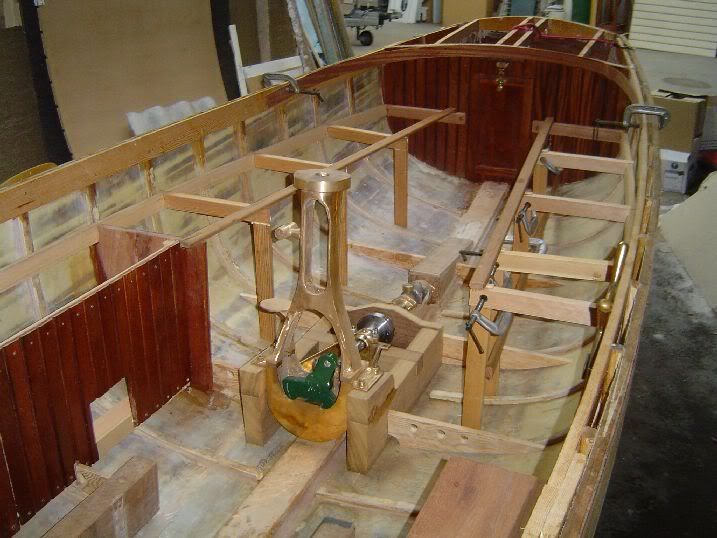 _________________
I've got the vehicle , just need the boat.
Back to top
csonics
Lighting the Boiler
Joined: 16 Oct 2009
Posts: 42
Posted: Sat Nov 07, 2009 8:44 am Post subject:
Beautiful!
Back to top
87gn@tahoe
Full Ahead
Joined: 23 Feb 2009
Posts: 148
Location: South Lake Tahoe, CA
Posted: Mon Nov 09, 2009 8:32 pm Post subject:
WOW...
Is it going to be a single or a steeple compound? Boiler?
_________________
Wesley Harcourt
-S.L. Wayward Belle (Mr. Grosjean was/is a genius.)
-S.L. George H. Sandin (Father's boat. Cut my teeth on that one.)
-'64 Buick Riviera
-'65 Buick Special WAGON
Back to top
DetroiTug
Warming the Engine
Joined: 19 Jul 2009
Posts: 73
Location: Outside Detroit
Posted: Mon Nov 09, 2009 9:46 pm Post subject:
Yes, very nice hull. Interested in the engine too, looks like a long stroke.
Thanks, Ron