With bending and plumbing two cylinder drain lines last night, I am declaring my launch engine "finished".
I purchased a trunion hung automobile engine of unknown make at Cabin Fever several years ago, which I believe was a prototype, and virtually unused. The extra "cylinder" is an intercepting valve, which converts the engine into a true double simple. Another unique feature it has are
inside admission
balanced slide valves, something I have never seen even in books. The HP cylinder is steam jacketed and originally didn't even have cylinder drains. Both pistons are hollow. The HP crosshead was badly out of line with the piston rod, something that wouldn't have lasted in use, another reason to suspect that it was a prototype that was abandoned prior to testing.
Bores are 2-5/8" & 4-15/16". Stroke is 3-1/2".
New parts include:
Sole plate
Crankshaft
Flywheel & shaft coupling
Columns
Intercepting valve & bushing
Reverse shaft, arms, and lever
Air & feed pumps and their 1/2 speed drive
Steam and exhaust flanges
Cylinder drains
Cylinder jacking of powder coated brass & copper
Oil boxes and lines
Mechanical lubricator.
It had been assembled a few weeks ago, until I took it down to parts for painting, the reassembly process inspires me to quote Richard McKenna:
"Holman led them in refitting each bearing as they rebuilt the engine, pointing the conn rods to meet each crank fair and central, and day after day the heaped engine parts went back to their appointed places. The empty archways filled up with piston rods and bulky crossheads and connecting rods. Between them, eccentric rods forked up to either end of the double bar links. Holman worked in a driving fury and he carried the others with him. All the heaped and rusting confusion moved back into place and order, with every nut snugged up and locked, and every part fitted easy and true to every other part.
Ping-wen moved in his coolies to clean and polish and paint and the engine stood bravely new…"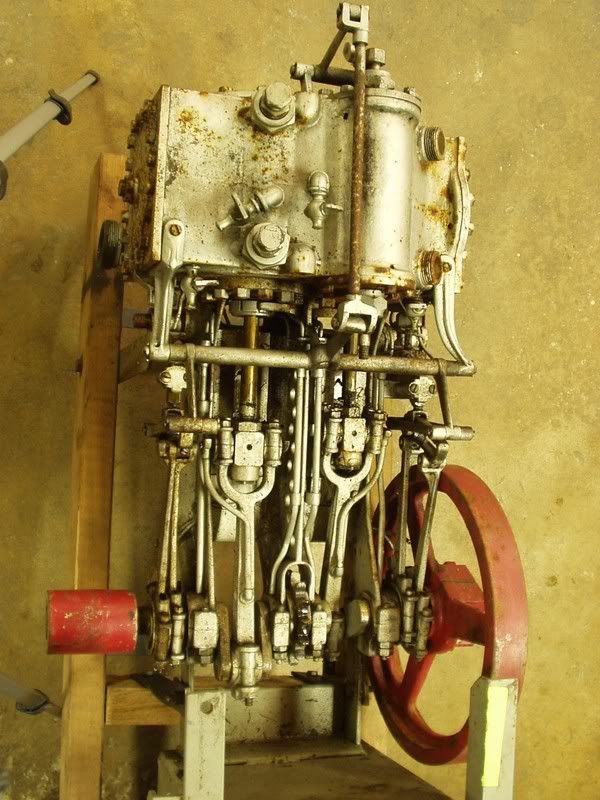 As purchased.