Well, I guess I should show you guys my father's little project. Currently identified under the codename "Next Weekend II" as his first project (S.L. George H. Sandin) was codename "Next Weekend" after many, "When is she going to be done?".. "Oh, next weekend probably."
Anyway.. It all started with the longing for something bigger. We initially wanted something in the 50ft range, but after taking a ride on the 56ft former German Harbor Poletzei (sp?)pinnace "Burma Queen" (When she was still in Oakland, CA), we decided that 50ft-ish was much too big.
Around the same time(1997), we asked Dick Vennerbeck if he knew of anyone with a "big" engine for sale (we were coveting the compound in the San Francisco Maritime Museum, but that was MUCH too big), and sure enough he did. We were put in contact with a gentleman in the California "bay area" and ended up purchasing a French "Calparede" compound (6"&10"X7") which had been sitting in his garage for the past 15 years or so, ripe with black widows and such. My father then proceeded to restore the engine, all the while looking for a suitable boiler and hull.
I wish I had a "before" picture on my computer...
(when I was about 14 or so playing "engineer answering bells"):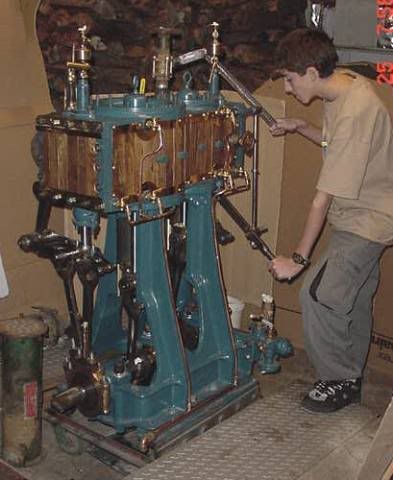 Later (around 2000), he found a suitable boiler in Santa Rosa, CA. It is a 3-pass horizontal firetube boiler made by the Kiwani Boiler Corp. (200sqft/hs)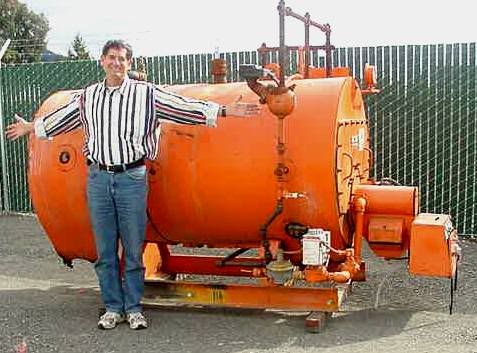 A few years later (2003), a week after the B&W Steamboat meet, my father, Larry Cardoza, and I went up to southern Washington to look at a steel tugboat hull (40'x12' overall). She was half full of water and had a few spots that obviously needed repair, so naturally he bought her and had her shipped down in the spring or summer of 2004 on a special trailer.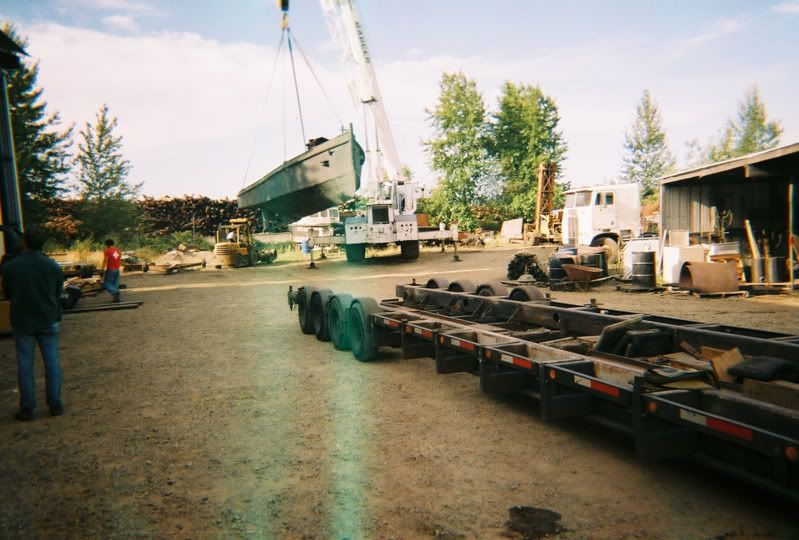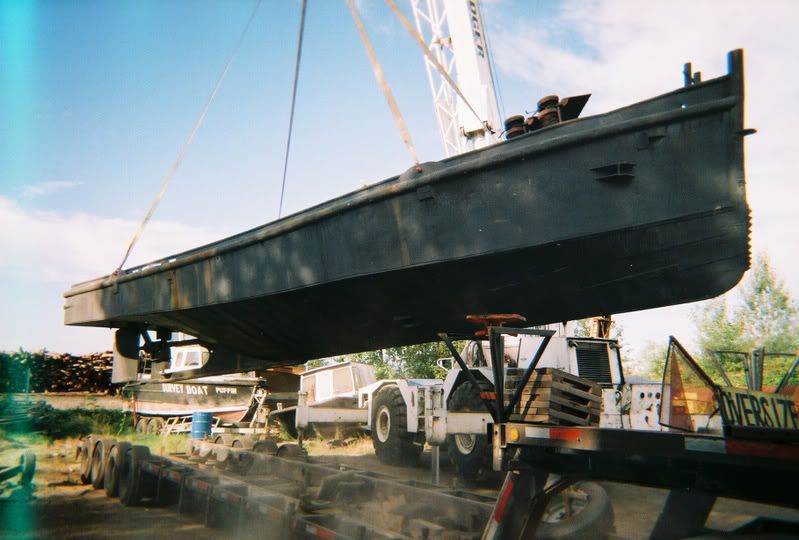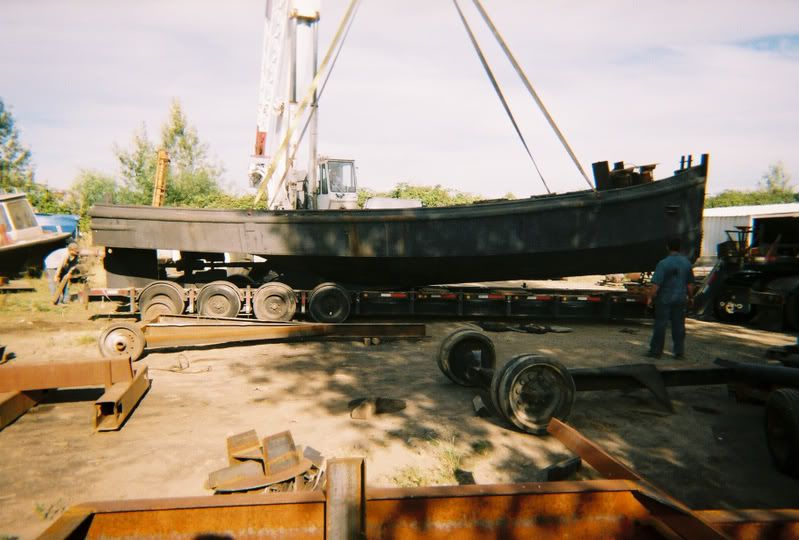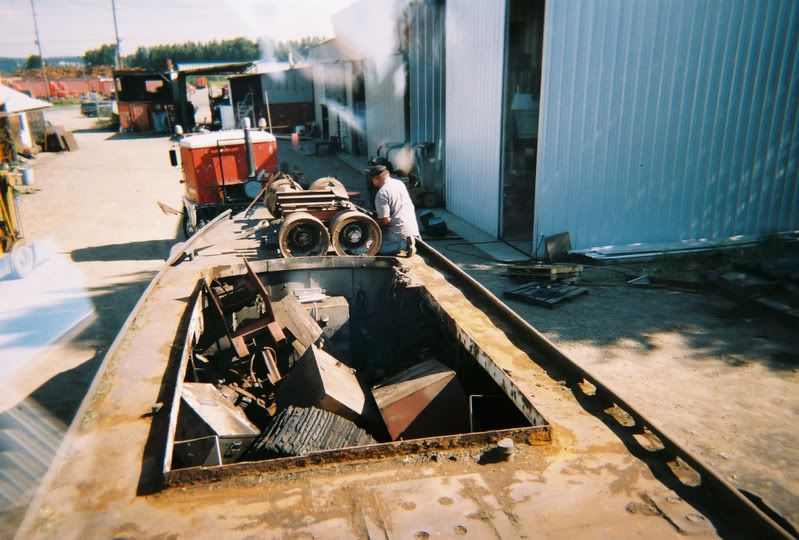 Now, he isn't particularly fond of the columns on the French engine, as he is more of a "traditionalist" when it comes to marine compounds; He prefers the look of cast back standards with slightly angled, turned front columns. He just to happened to get a line on a Canadian "Doty" Compound (5"&10"X6" ) up in Sudbury, Ontario. SO, he traveled up to Sudbury, Ontario, Canada with his friend Joe Butterman. They rented a large U-haul and hauled it (along some other steam goodies), all the way back to California. He began the restoration of that engine and began building new pumps for it (originals were missing and it was originally jet-condensing, he's going with a keel condenser), but got sidetracked by the work on the hull.
Engine with gentleman he bought it from:
Home: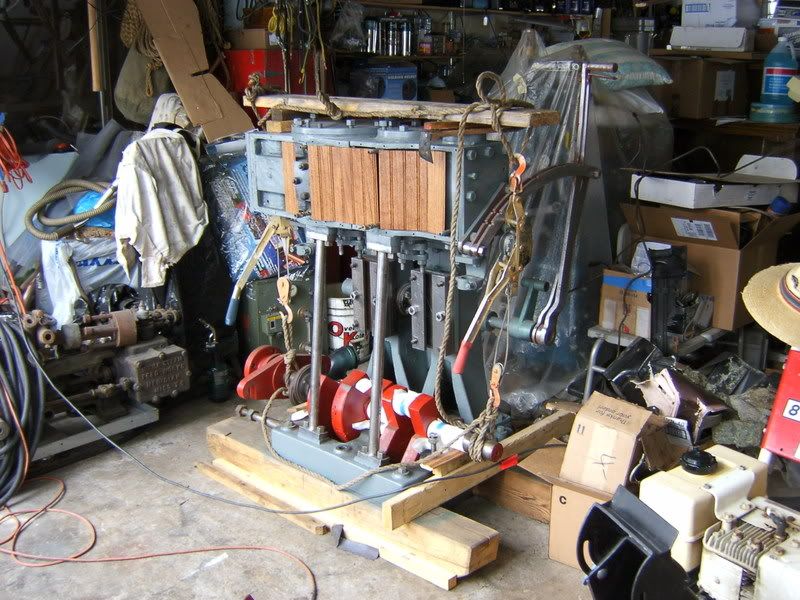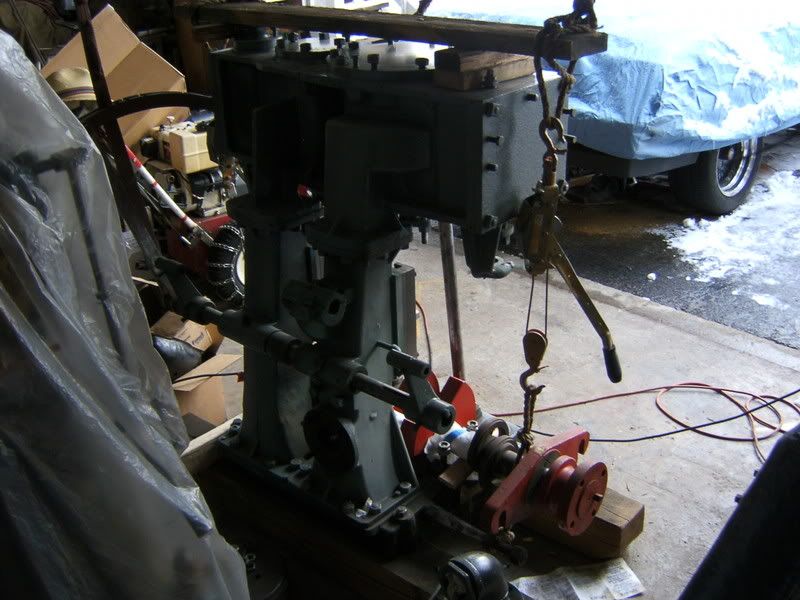 So, this is how everything appears at this point:
"Doty" compound in foreground with the "Calparede" compound in the rear, covered in plastic: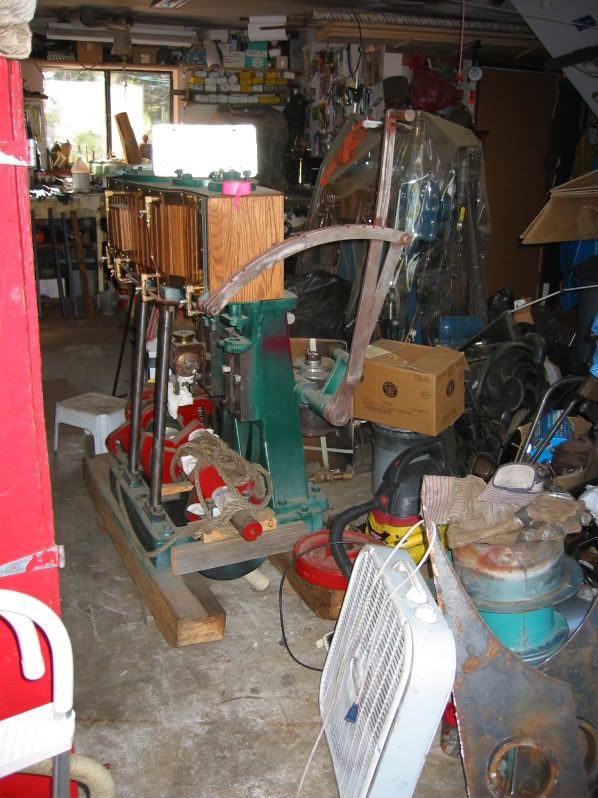 Boiler in the backyard: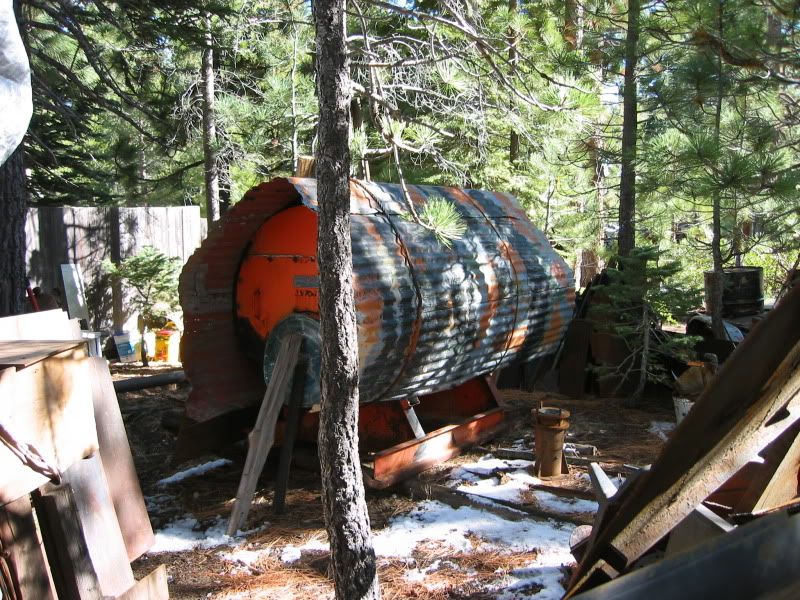 Hull a few months ago: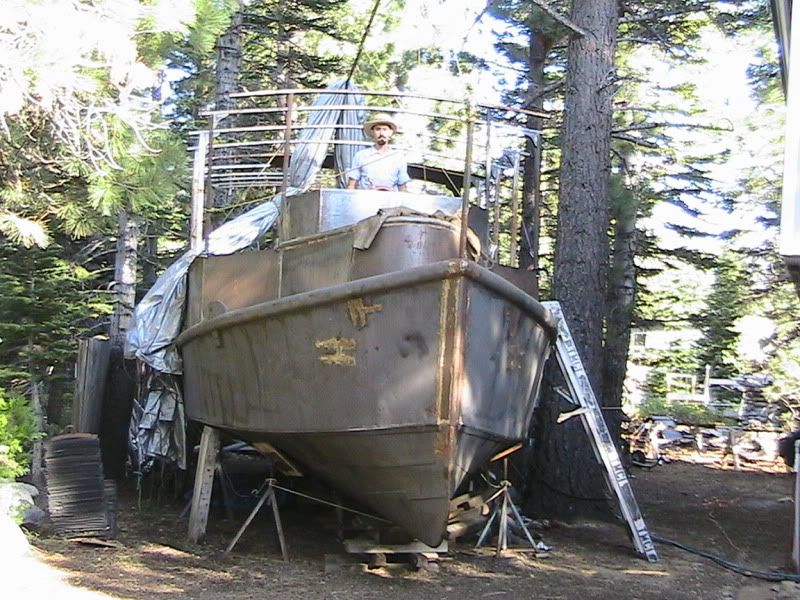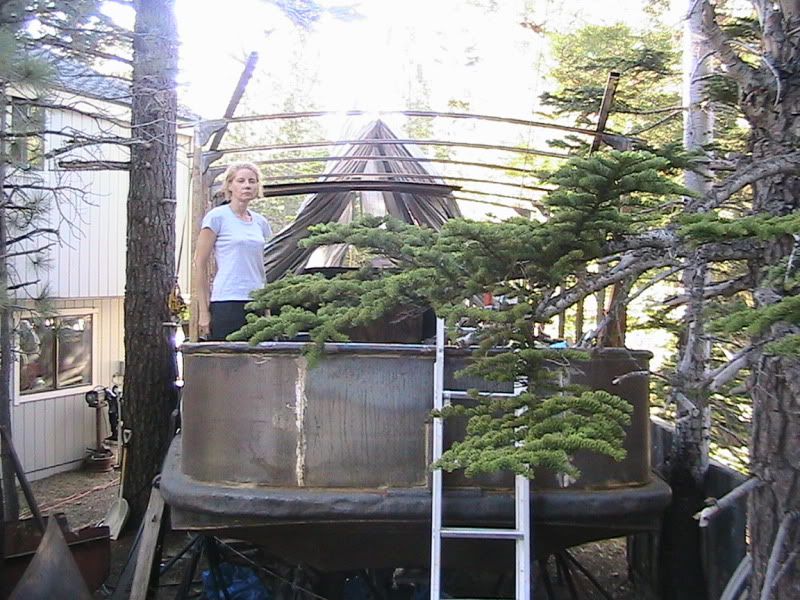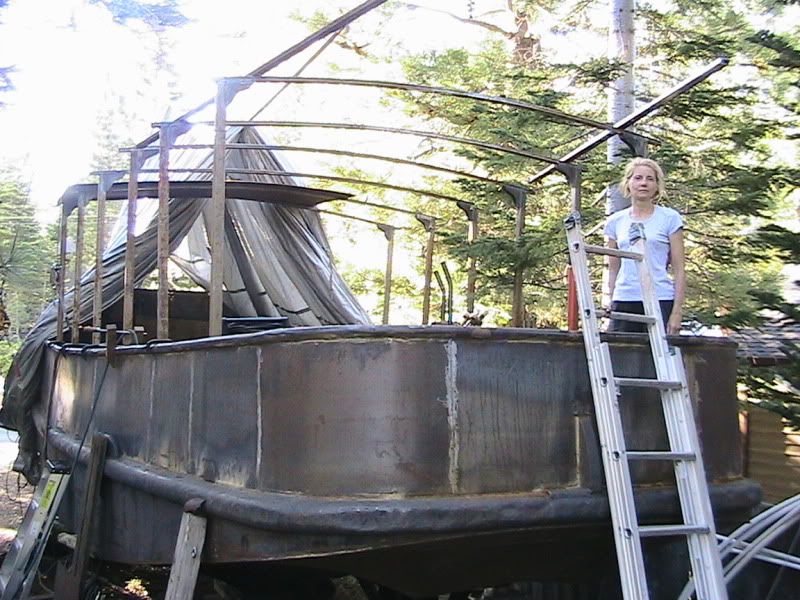 And more recent: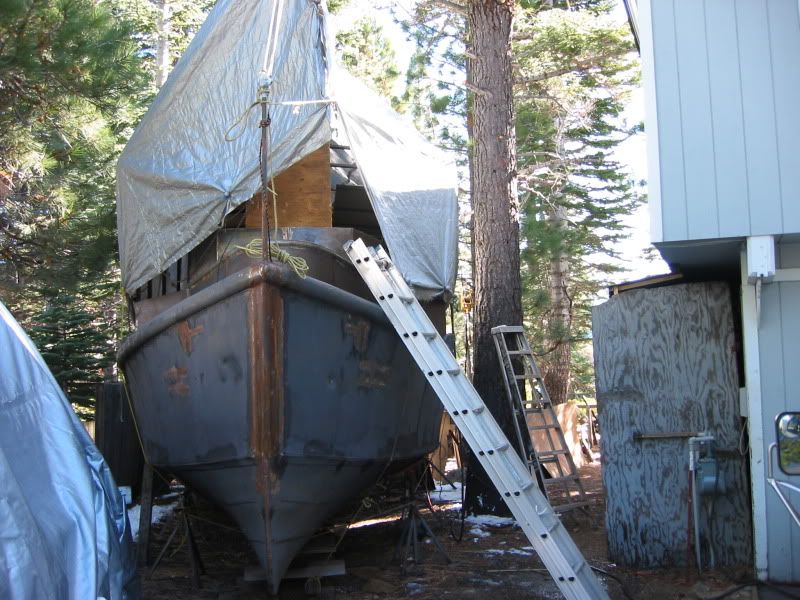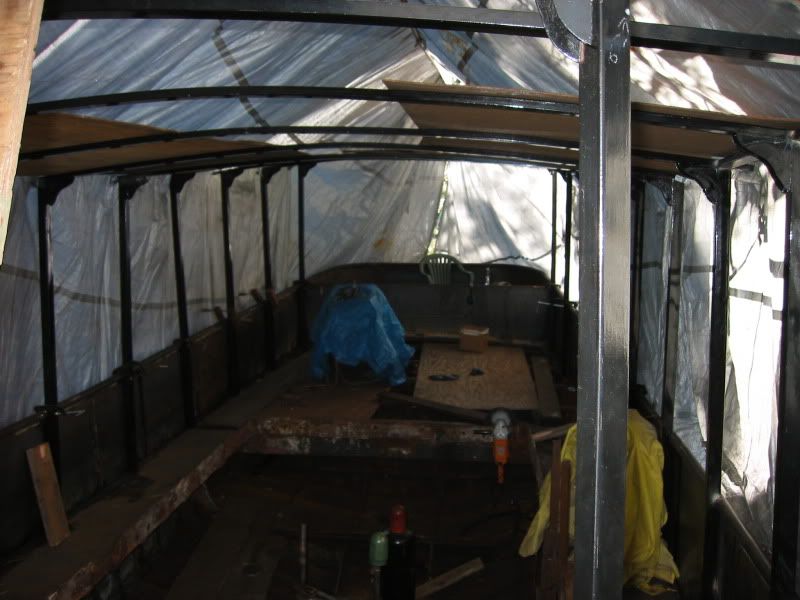 As you might be able to see, the stern has been modified from a tunnel stern to a more fantail-like persuasion (this area had a lot of rust, so he decided to modify more to his liking), along with other modifications to the bow (removal of large pipe at stem, removal of "dragon teeth", etc.). He has done a TON of work, mainly by himself (I'm a working stiff, he's retired)