Lighting the Boiler

Posts: 23
Joined: Sat Nov 21, 2009 12:16 pm
Boat Name: No Boat Yet
Contact:
Very nice. And a nice skylight seems a good idea.
Does you tug have navigation lights? I can't see them.
Full Steam Ahead

Posts: 290
Joined: Fri Jun 18, 2010 8:54 pm
Boat Name: No Boat Yet
Full Steam Ahead

Posts: 1723
Joined: Fri Nov 20, 2009 5:34 am
Boat Name: Margaret S.
Location: Phila PA USA
The skylight on the tug Cervia is nice, but perhaps a little less "heavy duty" and a little more "light" would be appropriate?

All kidding aside, I am sure Ron would come up with an appropriate design if he chooses to have a skylight. I often cringe as some uninformed (not here, but at the dock) well wishers tell me how I should modify my boat to what they think it should look like.
Full Steam Ahead

Posts: 1700
Joined: Fri Nov 27, 2009 5:56 pm
Boat Name: Iron Chief
Location: Northwest Detroit
Thanks for the ideas on the skylight. I've tried to follow the build type of the small river tugs used in logging in the early 1900's (And she sure looked at home on that river down there ). I doubt they would have had a skylight like that. I've not seen any anyway. Also, I've tried to avoid adding any weight above the gunwale. After adding a lot of weight below the gunwale, she's pretty stable now. Don't want to lose that.
Kno, The running lights are oil fired. I keep them inside in the wheelhouse cabinet when not in use. Then just hang them outside when needed. The bowlight is a Wilcox Crittendon with red and blue fresnel and the sternlight a Perko fresnel clear lantern. Both are legal and very bright.
Needless to say many of the locals down there had never seen a steamboat, much less rode on one. One overall-clad old timer was sitting in the engine room watching my brother fire the boiler. Brother Brian was tidying up the area and threw a plastic Coke bottle in and shut the firebox door, to which the old timer remarked: "Now You ain' gonna' tell me this thing runs on Coke bottles too, are ya?"
-Ron
Full Steam Ahead

Posts: 305
Joined: Sun Nov 22, 2009 5:42 pm
Boat Name: Emma and Molly
Location: Hannover, Germany
Contact:
Thanks for all the videos and storys!
Your build log is incredibly useful to me in planning my first boat. Very hard to find current info on building these launches from steel. I also have plans from Reliable, their 20' Rebel side wheeler. I'm still trying to figure out how to interpret boat plans, but if I can get through that, I will be using our build log as a bible! Well done! Wish there where many more like it.

Thanks for all the time it took you to document your build, it sure gives a guy like me the courage to attempt such a feat.

Matt
Full Steam Ahead

Posts: 1700
Joined: Fri Nov 27, 2009 5:56 pm
Boat Name: Iron Chief
Location: Northwest Detroit
Hi Matt,
Glad you are finding it useful.
There is a fellow in Pa that built the Rebel sidewheeler out of wood and installed a Pearl engine. Has some good info on building VFT boilers. Doesn't seem to be any recent updates.
I would have no qualms building that hull in steel. Use 12 gauge keel to wale and control the heat to keep it fair.
http://www.mysidewheeler.com/
-Ron
Full Steam Ahead

Posts: 1700
Joined: Fri Nov 27, 2009 5:56 pm
Boat Name: Iron Chief
Location: Northwest Detroit
Getting some handrails mounted. The cabin top handrail is made from some old stanchions I found with some new tubing, then radiused to match the cabin sides.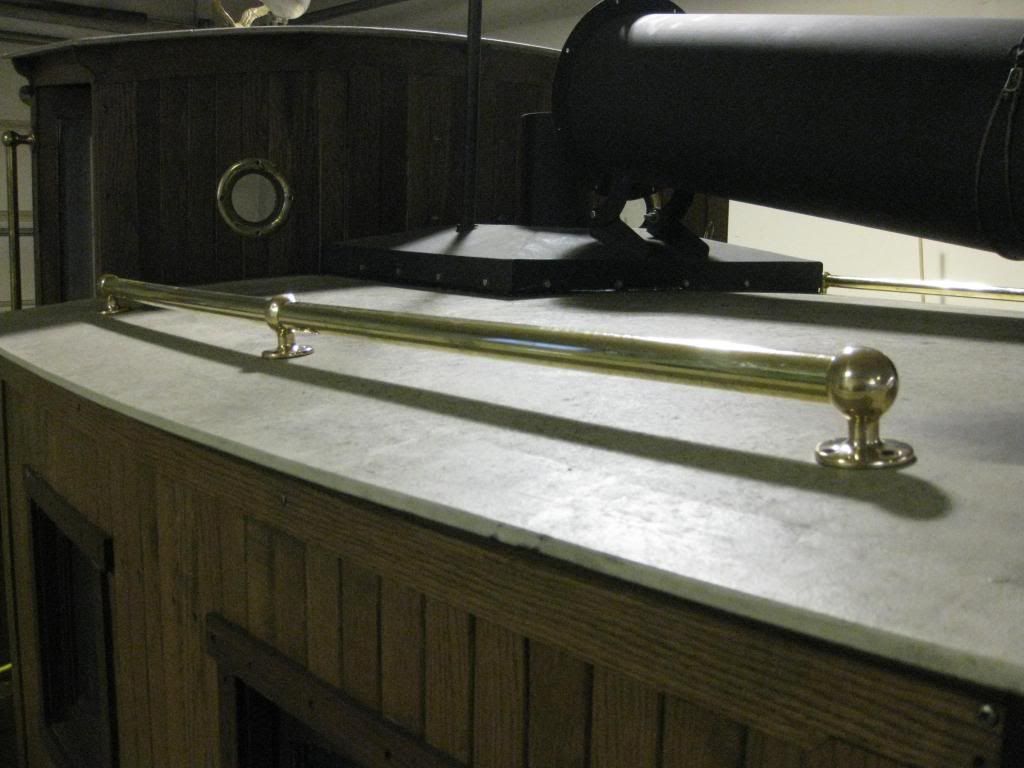 The next one I'm having to make the stanchions, this one is for the wheelhouse roof. These stanchions were made in a CNC lathe - two separate tools for the sphere on the end.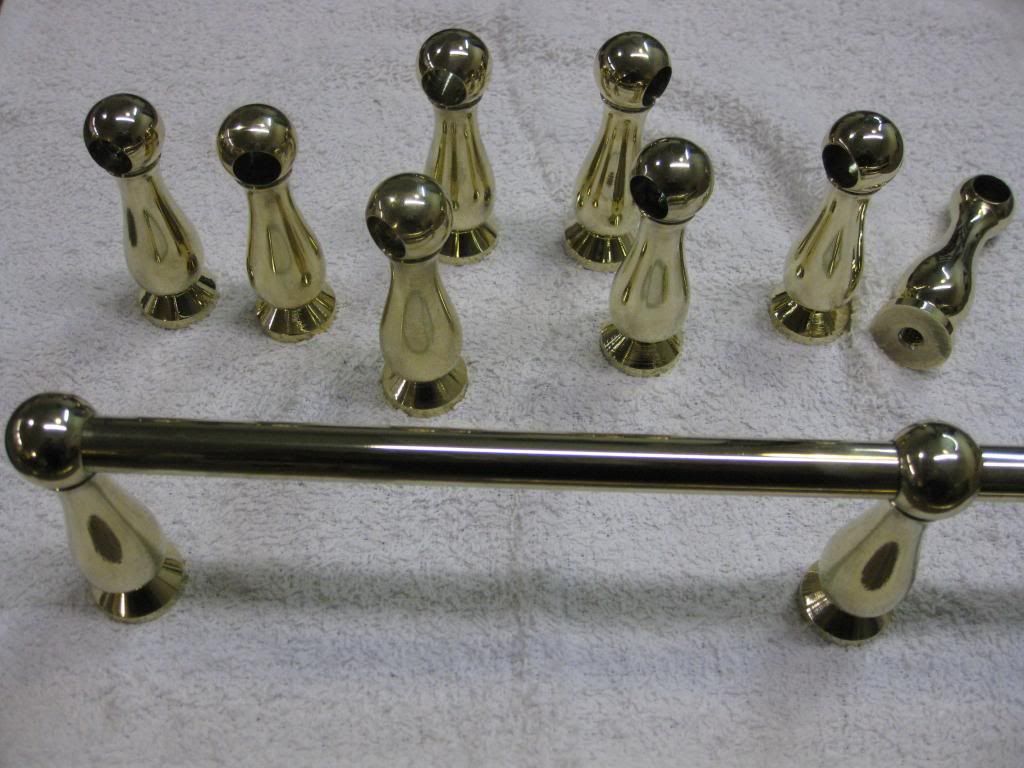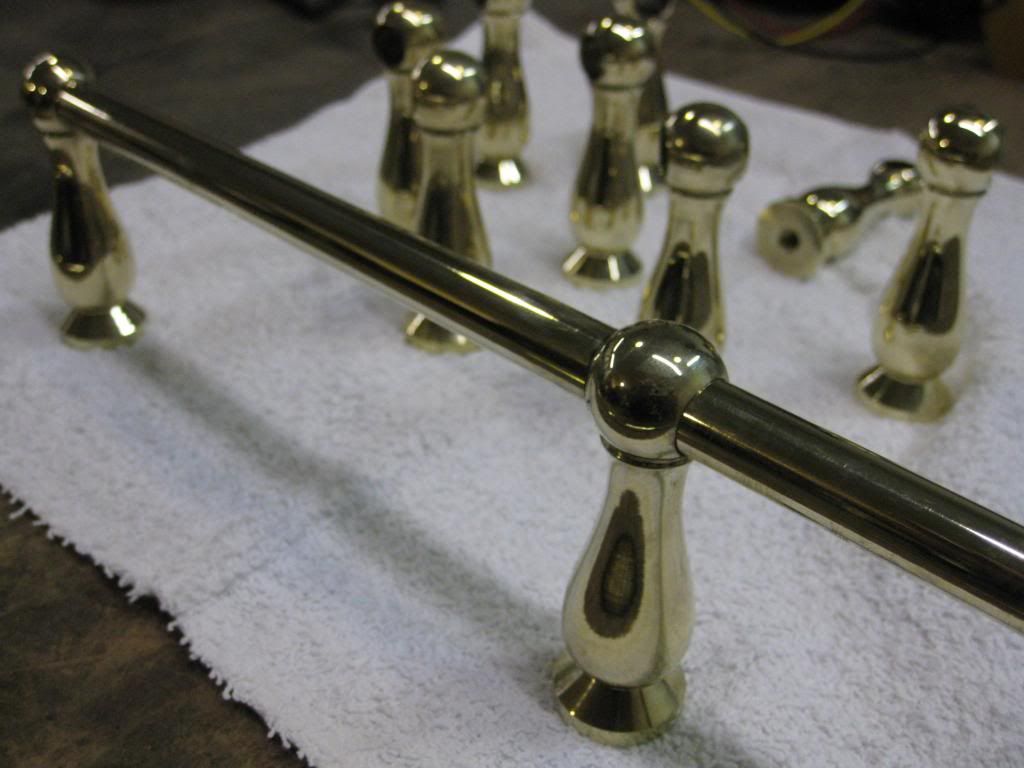 Now comes the fun of shaping the rail to the wheelhouse roof. It's 1/2" admiralty bronze.
-Ron
Full Steam Ahead

Posts: 305
Joined: Sun Nov 22, 2009 5:42 pm
Boat Name: Emma and Molly
Location: Hannover, Germany
Contact:
Full Steam Ahead

Posts: 1802
Joined: Wed Dec 07, 2011 6:41 am
Boat Name: S.L. Folly
Location: Lopez Island, Washington State, USA
Schwerer!

Ron,

So when does your center of gravity rise above your center of buoyancy? On my little launch all of this stuff would have capsized me some time ago!

Do you have an estimate of your boat weight now that it's steaming?

Also, Rainer,

Do you happen to know how much your new hull weighs at this stage of construction? I'm working on a design of a new hull for my existing machinery and since I have very little power I'm watching the weight closely.

Mike
If you think you are too small to make a difference, try sleeping with a mosquito.
Dalai Lama