Attempting to sort some posts by subject, I show you here how I made the tube ends.
I'll show you some photos of the building in more detail: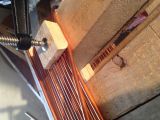 There you can see a wooden block I ground the same radius on as the edges of the water wall - 22mm. The block is held in place to bend the tube up for the cranking to the tube end.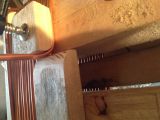 Above you can see the second wooden block with the same bending radius for the last bend, finished on the photo below. And as you can see, the copper tubes just bend easily. There isn't really a big deal about bending them, but if I get the feeling the tube might collapse, I just grab the tube and push it into the bend. This seems to work pretty well.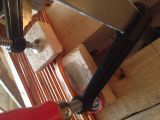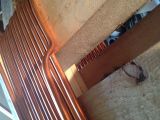 The last picture shows the finished tube end. Having passed this tube bundle, the water will reach this end, which will be connected to the entry of the near-identical 2nd part of the water wall. Brake pipe fittings will connect all 4 parts, forming one single water wall. The reason to crank out the tube is not just due to space considerations (they are thicker than the tube of course), but mainly to keep the fittings away from the heat. I am thinking of a clip-on sheet metal or something simple to shield the fittings from the radiation.