Hello,
I've stumbled upon an article about steam boilers for locomotives, which might not sound too fitting, but the article had a chapter about vertical steam boilers, of whose designs many look like they can work in a steam boat as well. And the design of some of them is really interesting.
I tried to find an english version of the site, but it isn't all that important, because the pictures speak for themselves after all. Here is the source:
https://deacademic.com/dic.nsf/eisenbah ... otivkessel
I used the names from the descriptions of the pictures, but they aren't necessarily the official names. But a researcher might find it useful to find background information about them.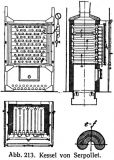 Fig. 1 shows a boiler from
Léon Serpollet
, a pioneering inventor. The tiny pressure vessel on the right side of the boiler probably is the steam dryer.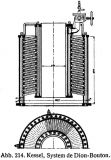 Fig. 2 shows a boiler from
De Dion-Boulton
. Note the absence of plugs to access the many radial water tubes for maintenance. Long stay bolts hold the boiler together instead.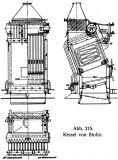 Fig. 3 The schematics of this boiler named
Stolz
immediately show a resemblance of the
Belleville
boiler, but it avoids the heavy tube plates.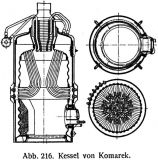 Fig. 4 This boiler used by
Komarek
makes use of different "smartifications". The entire fire box consists of a corrugated tube and a number of tubes hang inside the fire box.

Fig. 5 The
Kittel
boiler is very straight forward. Note the widening of the boiler at the height of the design water level to counteract priming.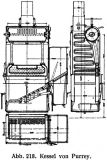 Fig. 6 This boiler is from the
Société Valentin Purrey
for its steam railcars. It also looks like a deviation of the
Belleville
boiler, replacing the tube plates with bent tubes and thus less connections.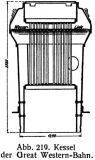 Fig. 7 The
Great Western
boiler is also a straight forward vertical fire tube boiler. Note again the use of a bigger water surface to counteract priming.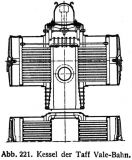 Fig. 8 I've seen this boiler in a model steam handbook but thought its shape might have been created as an adaptation to the model scale. But it did exist as a big scale version after all. This boiler from the
Taff Vale
Railroad looks like an inversion of a double-sided scotch marine boiler with the firebox in the center. Technically, it is a combination of a vertical and a horizontal boiler merged to a "T". A similar boiler was used by the Yorkshire Patent Steam Wagon Co. .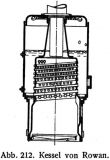 Fig. 9 This boiler from the danish mastermind
Rowan
was part of a railcar built in Great Britain and to be used in Australia. The resemblance to the
Sentinel
boiler is very visible, although it is bottom-fired and possesses a simpler top, lacking economizer tubes and steam dryer of a
Sentinel
boiler.