Full Steam Ahead

Posts: 1734
Joined: Fri Nov 27, 2009 5:56 pm
Boat Name: Iron Chief
Location: Northwest Detroit
Ken,
Thanks for the help on this, all good advice.
Here are some pics for a better idea.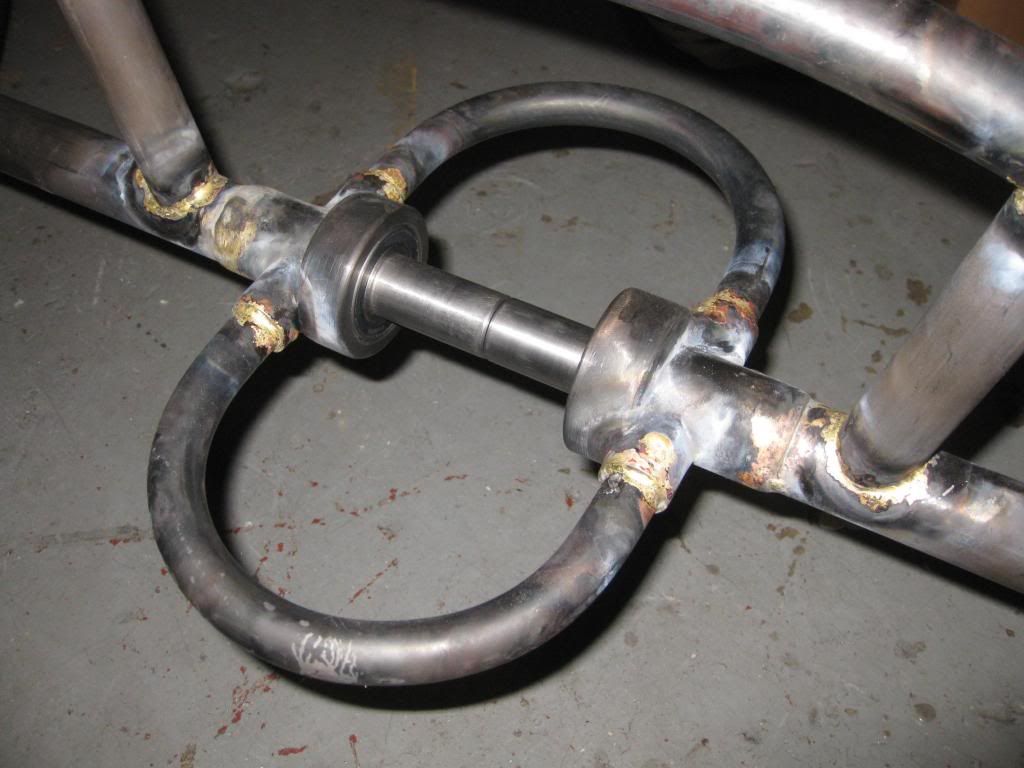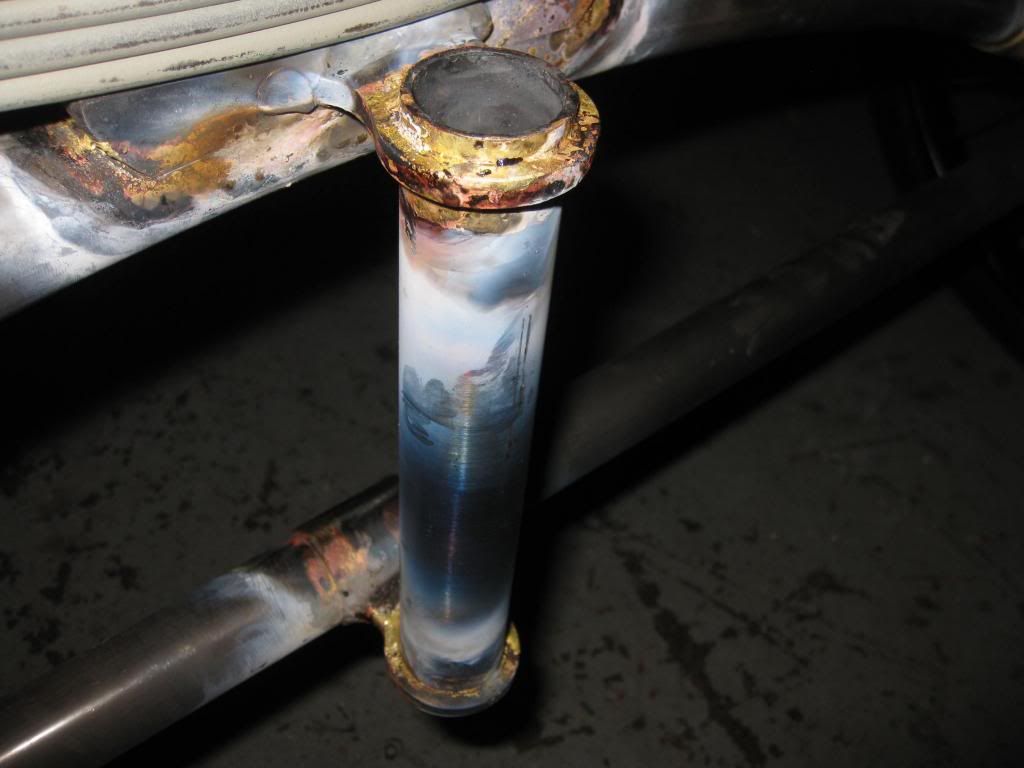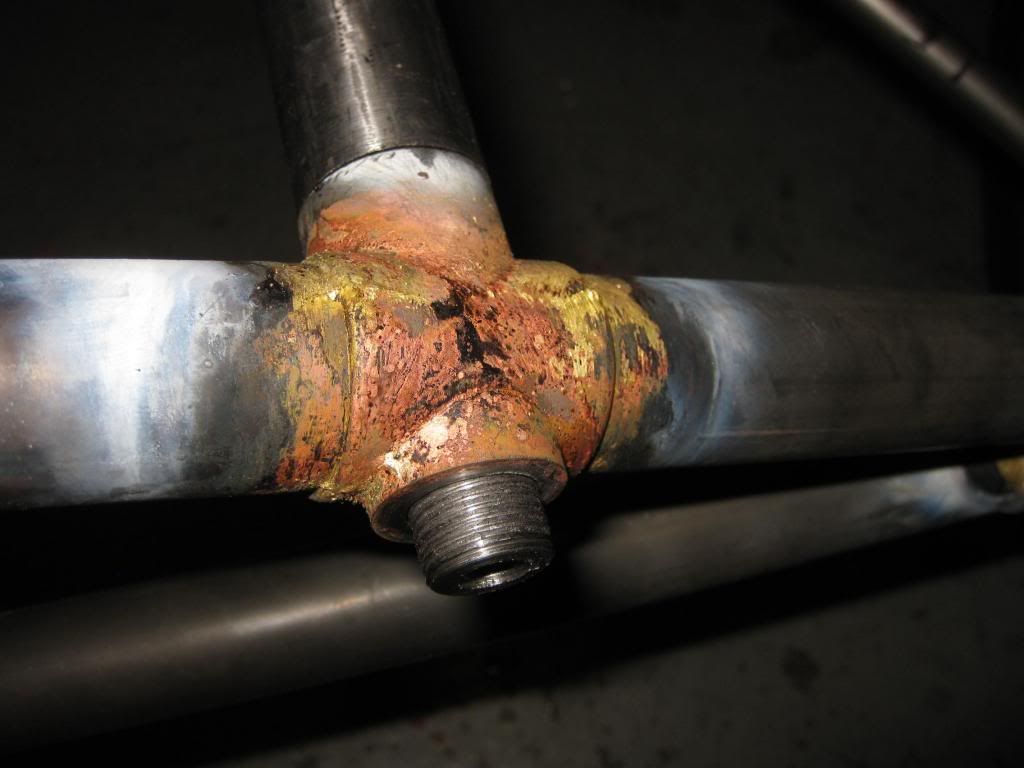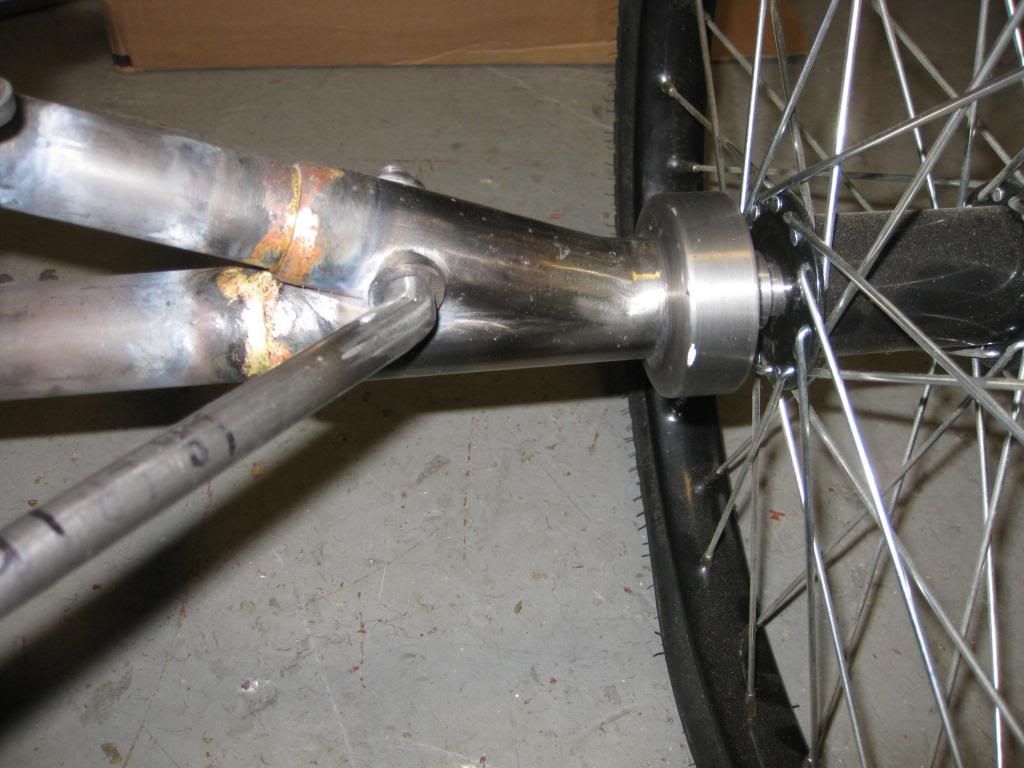 -Ron
Full Steam Ahead

Posts: 1736
Joined: Fri Nov 20, 2009 5:34 am
Boat Name: Margaret S.
Location: Phila PA USA
Sil brazing alloy for copper piping does not work well on steel. Generally the Sil-brazing wire for copper has Phosphorus, and does not bond well to steel. These alloys often have only 5% to 15% Silver.

The brass brazing alloys work well with steel, make excellent fillets, but do not have the capillary action that the high % Silber solder alloys have. For steel silver soldering 45% or more Silver content works well, but is way more expensive.
Full Steam Ahead

Posts: 284
Joined: Thu Nov 19, 2009 2:51 am
Boat Name: TBD
Location: Colorado USA
Ron,
Sorry to take so long to get back. Pics are good. Looks like a fun project.
From the amount of copper remaining on the joints it looks like the joint has been overheated (burning out the alloying metals, leaving copper). I'm also not seeing a cleaned area around the joint showing where the flux was active. There are what looks like white & black residues making me think that your flame may not be set correctly. A slightly reducing flame will help clean the metal as well as heat faster. Excessive oxygen will oxidize the surface making oxides that will use "use up" the flux and prevent good flow of the filler. You should be able to Google "reducing flame". The black residue may be from an overly reducing "sooty" flame.
What filler and flux are you using? I'm thinking (and it's hard to tell from pics) that you may have a flux that's incompatible with the base metal in that it's not capable of removing the oxide from the steel as it becomes active. Some fluxes are just better on certain materials. Try silver brazing on aluminum-bronze (on second thought, don't). Without a flux that's compatible with the base metal the filler will just ball up like water droplets on a newly waxed car, which is exactly opposite of what you want.
The white residue make me think that the joint wasn't properly cleaned before brazing. The white residue could be from oil on the tubing burning up. I don't see anything in the pics that would indicate sanding, wire brushing or other cleaning of the joint before brazing. A good mechanical cleaning followed up with a degreaser that doesn't leave a residue will go a long way to getting a good braze.
Any, or combination, of these scenarios would cause the flux to "be used up" and prevent the filler from flowing properly. I think the overheating is just from trying to get the material to flow when it just doesn't want to, due to improper conditions caused by the issues with the flux (and maybe improper flow characteristics of the filler as mentioned previously).
I suspect that it's combination of the above items. It really is an art & a science to get a good joint. I started doing bicycle frame repairs a long time ago and have had lot's of practice. Also, I am working currently working for a manufacturer who does a lot of brazing on steel components.
I'm glad to help. It's good to reciprocate as I have had my share of questions posed to the board.
Here is a site that will reiterate these points
http://www.silvaloy.com/braze_guide.php
Cheers
Ken
Full Steam Ahead

Posts: 867
Joined: Sat Aug 13, 2011 6:41 pm
Boat Name: B.N.Y.S.
Location: Middle Earth
One point that doesn't seem to have been emphasised is that with all brazing/hard soldering, heat preservation is important. The point that plenty of heat is needed is fairly obvious, but if you can build yourself some sort of hearth round the part that you are working on, with fire-brick, or similar, it will reflect a lot of the wasted heat back into the job and speed up heating time so that the flux doesn't get burned away too soon. I always keep loads of small and broken pieces of fire-brick handy for just this purpose.

Saves on gas too!
Retirement is about doing what floats your boat!

A BODGE : - A Bit Of Damn Good Engineering.
Full Steam Ahead

Posts: 1736
Joined: Fri Nov 20, 2009 5:34 am
Boat Name: Margaret S.
Location: Phila PA USA
Brazed fillets on walking beam assembly. Enough heat was used here to get full penetration of the joints, then fillets added to make it look like a casting, as well as providing good reinforcement. Outer band of walking beam was welded, those outer joints could not have been made without heavy distortion if they had been brazed.
Attachments

BrazedFillets.JPG (20.48 KiB) Viewed 6218 times
Full Steam Ahead

Posts: 1734
Joined: Fri Nov 27, 2009 5:56 pm
Boat Name: Iron Chief
Location: Northwest Detroit
Hi Ken,

Yes, large amount of heat was used to draw the bronze back in to the slip fit joints. Which it did as it could be observed being pulled back in.

Yes, the tubing was cleaned/sanded to a bright finish in the area of the brazing. All of the joint components are newly machined bright surfaces internally. No oil was used during the machining.

The flux used is what was on the brazing rod. That is what produced the white oxidization.

The copper exposed is a result of wire brushing and scotch wheeling the joints to remove excess metal. Note those that are not brushed, there is no exposed copper.

I have no doubt to the integrity of the joint, was really just interested in how to easily remove the excess filler on the outer surfaces to prepare for paint.

The original frames were bronze brazed back in 1901 and many of them are still in existence. Never heard/read of any of the frames failing at the joints. The issue was with the tubing itself failing, a few years later (1903), larger tubing was used on the four passenger model.

-Ron
Full Steam Ahead

Posts: 284
Joined: Thu Nov 19, 2009 2:51 am
Boat Name: TBD
Location: Colorado USA
Ron,
Sounds like your joint preparation is good. Didn't mean to make it sound like your were having a poor braze mechanically either. The excess filler material issue is related to the entire braze process. Ideally, there should be nearly no cleanup required, but I know that that isn't always possible in practice. Or more accurately, when I'm out of practice it's more difficult. The joint that I would expect would have a nice thread of braze showing at the joint and maybe a film of filler on the surfaces near he joint.
Everything in your pics makes sense now that you mention the flux coated rod and I think that is where your difficulty in getting a clean braze comes in.
I have found that using only the flux on the filler rod isn't sufficient to get a good capillary braze without a lot of messing about, which leads to excess filler & extra cleanup. I don't know the exact mechanism, but when only the flux on the rod is available it seems to be too little, too late and the filler won't flow well. The addition of flux early on keeps the joint protected & clean promoting good flow.
I have a can of some powdered flux that is compatible (the same as?) with the flux on the rod. I will heat the rod and dip it in the powdered flux to get a good lump formed. Then I will start heating the joint. As the joint comes up in temperature I will get the lump of flux to coat the joint as soon as there is enough heat to get the flux to stick. Continue heating the joint and adding a bit more flux as you come up to temp. Excess flux just means more cleanup, but you should have enough to surround the junction of the two pieces. As the joint heats the flux will start to flow and become active and you should see glassy clear flux with what looks like very clean steel underneath. When there is enough heat for the metal to melt the filler, braze the joint. I'll usually wait for the joint to cool a bit then wet the joint by plunging into a bucket or laying sopping wet rags on, this will pop of much of the flux (beware of the steam). Cleanup should be minimal sanding the remove the toughest area of remaining flux, film of filler and other imperfections.
Mikes comment on heat preservation is very valid as well especially if you have a smaller torch than might be optimum for the size joint being brazed.
I have attached a photo of part of a whistle that I am building. Sorry for the poor quality. You can see the thread of filler along the joint and the area where the flux has been active and the boundary of the flux. The filler was held into the joint by capillary action with no filming or excess filler outside the joint. The white powdery but is a bit of flux as this parts has been sitting for a while. I planned on pickling immediately in preparation for the next braze operation but got distracted by other projects.
Cheers
Full Steam Ahead

Posts: 284
Joined: Thu Nov 19, 2009 2:51 am
Boat Name: TBD
Location: Colorado USA
Ron,

Forgot to ask, What is the car project? Locomobile or non-steam? Would you care to share some overall pics in anoraks corner?

Ken
Full Steam Ahead

Posts: 1734
Joined: Fri Nov 27, 2009 5:56 pm
Boat Name: Iron Chief
Location: Northwest Detroit
Ken,

Yes, I have a lot to learn about brazing. I typically weld everything, but that isn't always possible in the steam hobby. I tig-brazed the exhaust manifold on the twin for the tugboat, there was two attempts at that and the last try was mediocre at best. I've since learned, it's weld and wire brush before trying to add anymore filler. The zinc oxidizes on the surface.

It's Steam, I'll post some pics on Anoraks corner section.

-Ron
Full Steam Ahead

Posts: 284
Joined: Thu Nov 19, 2009 2:51 am
Boat Name: TBD
Location: Colorado USA
I can't weld worth %^^$^&, so there will be probably some time that I'll be asking you the questions
Ken