Posted on behalf of P.F.Cuthbert@Classicfm.ne:
P.F.Cuthbert@Classicfm.ne
Steam on Deck
Joined: 24 Nov 2007
Posts: 52
Location: Cheshire, UK
Posted: Fri Jun 06, 2008 10:39 am Post subject: Blackstaff Boiler Design (SBA Library)
I have been examining the plans of the SBA Blackstaff boiler and have a few queries that I would like to raise with the assembled expertise of this Forum.
1. The steam dome is flanged, thus giving good access to the steam drum. However, the latter has welded on end caps. Would it not be better to have the ends flanged? One's Boiler Inspector could then easily inspect the condition of this important area.
2. The mud drums also have welded on end caps which means there is no way to inspect them easily. Why not have flanged ends here too?
3. The steam dome in the original article in SB&MSL is shown in the photograph as poking up through the funnel stub. This sounds like a good idea for dry steam, but how does one get a gas tight joint in the funnel where the steam pipes come though? Is that why so many of the boats in the SBA register that have Blackstaff boilers seem to have the steam dome in the middle, separate from the funnel?
4. Does anyone have experience of firing a Blackstaff with wood? My contacts in the US say "no problem" whereas some of the folks I have talked to in the UK say "no way".
Many thanks
Pete
Back to top
Edward
Lighting the Boiler
Joined: 01 Oct 2007
Posts: 39
Location: Ambleside, Cumbria, UK
Posted: Sat Jun 07, 2008 1:40 pm Post subject:
Dear Peter,
Just some idle thoughts , ideas , guesses and opinions :
1) As I understand it the SBA "library" of boiler
designs is not intended to be a definitive set of
designs . In other words it does not say "This is
the only way this boiler can be made." It is a
collection of designs submitted by individuals ;
each design must have passed an assessment
by an insurance company approved assessor,
so provided it is built according to the
specificatons it should pass inspection and be
accepted by an insurer. So each design merely
reflects what the individual who gave it to the
library decided. This is not to say that the
design can't be changed , but any significant
change will almost certainly require a
re-assessment of the design with all of the costs
that this can entail.
2) Flanging of the ends of the steam and mud
drums might be desirable for inspection, but I
suspect that the precision needed and the
probable need for gaskets would add quite a lot
to the cost and a little bit of weight . Although
gaskets can be perfectly safe they add an extra
element that can fail and are not beloved by
insurance companies.
3)If I understand you correctly concerning gas
tight fitting around pipes coming out of the
funnel this need not be a problem , obviously
leaks here destroy draught (I presume this is
what concerns you) But providing the gaps are
within reason they can be sealed with a
suitable sealant . If the gap is small soot will
soon fill it.
4) Any boiler with a grate can burn wood. But
even the best wood has only about 2/3rds of the
calorific value of poor coal, so you'll need a
considerably larger firebox/heating surface to
achieve good results (or a commensurately
smaller engine.) You will need to carry
more fuel and get much more sparks out of the
funnel, which although sometimes pretty and at
night sometimes spectacular , will damage
canopies and varnish and singe baldies like me!
I hope these random jottings are of some help . For a more authoritive answer you should contact David Beale who I believe now administers the SBA boiler scheme.
Yours Sincerely Edward.
P.S. You might get more responses if you ask your questions on the SBA Bulletin Board.
Back to top
artemis
Just Starting Out
Joined: 24 Sep 2007
Posts: 19
Location: Portland, OR, USA
Posted: Wed Jun 25, 2008 4:49 pm Post subject:
Living in the Seattle, Washington area in the 1960s and 1970s I was acquainted with Cliff and his boilers and engines. The plant was a "unit of choice" for many steamboaters in the Pacific Northwest and quite a few were installed.
The Blackstaff-Wood boiler was designed to burn diesel or "stove" oil with a vaporizing burner. The burner worked quite well, without much "carboning up". Propane was also fitted and used very sucessfully and safely. The engine and boiler were well matched. If you have (or can borrow) a copy of Steamboats and Modern Steam Launches you will find quite a bit of info about this boiler.
Most of the boilers still in use in this area have the stack on the forward end of the boiler casing to simplify the "plumbing". The only complaint of those that retain the steam dome in the funnel is the piping - but argue that there is a noticeable difference in heat transfer by passing the exhaust gases around the steam dome and up the funnel.
Cliff wanted to offer an inexpensive, light weight plant for boats like a 16' Poulsbo hull or a 20' Rose. It works very well in this range. Like many "colonials" he saw little need for flanges - they provided little additional safety, increased expense and weight dramatically, and (if you watched the quality of your feedwater and blew down regularly) did little to prolong boiler life.
Back to top
Kelly Anderson
Just Starting Out
Joined: 17 Jul 2008
Posts: 3
Location: Strasburg, PA
Posted: Sat Jul 19, 2008 6:49 am Post subject:
I have fifteen years experience running my Blackstaffe boiler on mostly oak, and wouldn't use anything other than wood fuel.
The original boiler faithfully followed Blackstaffe's design, and added one square foot of economizer inside the casing. This boiler was happy running the Balckstaffe compound at 2/3 speed on natural draft, but had to be heavily forced with the stack blower for flank speed.
I have since built a new boiler inside the same casing that departs from Blackstaffe's design to make better use of the space. I did away with the four angled down combers in the corners, and installed one down comber on the centerline at the front, connecting to a U-shaped mud drum. This makes room for fourteen coils, compared to the original design's ten. The economizer is now 35' of 3/8" copper tube arranged inside the casing. With these modifications, I can easily run continuously at flank speed (150 PSI) on natural draft.
This boiler has no steam dome, instead, a perforated dry pipe runs the length of the steam drum. It has never carried over water to the engine.
The U-shaped mud drum caused the grate to be shortened about 2" to 6-3/4" by 13-1/2". I burn sticks cut to 13-1/2" long. One of the buckets in the photograph holds about ten pounds of wood, and will last about 1-1/2 hours on natural draft. On average, I burn 4-1/2 sticks per mile. At my cruising speed of about 6 MPH, that means one bucket will take me nine miles. I do run condensing.
Prerequisites for burning wood in a boiler with this small a volume of water are: Efficient dampers in the stack and at the ash pan door to cut off air to the fire when slowing or stopping. A ready source of cool feed water when the engine is stopped. I have a miniature duplex pump feeding cold water directly to the boiler which serves admirably to control pressure when a sudden stop is made with a hot fire in the boiler.
Reciproca measures 20' x 4'6". She cruises comfortably at 6.4 MPH, as shown in the photo, with a flank speed of 7.4 MPH. Handheld GPS units are very handy for checking performance.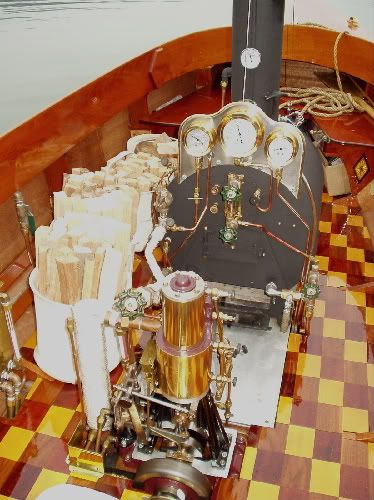 Maltelec
Site Admin
Joined: 23 Sep 2007
Posts: 156
Location: Cumbria, UK
Posted: Sat Jul 26, 2008 4:13 am Post subject:
Far too clean!
How do you expect to become covered in coal dust?
7.4mph is a good speed for a boat of that size. The steeple compound looks fantastic.
_________________
I've got the vehicle , just need the boat.
Back to top
dwkoski
Just Starting Out
Joined: 26 Jul 2008
Posts: 5
Posted: Sun Jul 27, 2008 8:20 am Post subject: boiler plans
I am in the process of selecting a boiler design and have not seen the design for this boiler. I would like a water tube boiler and plan on building it myself. I live in Wisconsin (USA) and this state has no requirements or restrictions on home built boilers (!!!) I have some training/experience in welding but am not a professional. I do have acess to well-trained professional assistance. Can anyone tell me of a source for the basic layout of this boiler as I may want to include it in my list of designs for consideration. I currently have detailed plans for a very nice Ofeldt and basic layout drawings for a Yarrow....thanks....Dave
Back to top
Kelly Anderson
Just Starting Out
Joined: 17 Jul 2008
Posts: 3
Location: Strasburg, PA
Posted: Sun Jul 27, 2008 9:58 am Post subject: Re: boiler plans
dwkoski wrote:
Can anyone tell me of a source for the basic layout of this boiler
The best description of this type of boiler, including material specs is here.
http://www.steamlaunch.com/books/modernbt.html
Look on page 18 of the November-December 1963 issue. The entire book is filled with valuble information on planning and building a steam launch and is well worth the price.
_________________
I steam, therefore I am.
Back to top
dwkoski
Just Starting Out
Joined: 26 Jul 2008
Posts: 5
Posted: Mon Aug 18, 2008 5:44 pm Post subject: Blackstaff boiler
I have a copy on order. Am just finishing my Tiny Power M and wll post a picture when I complete the fitting. Should have it polished and painted within a couple of weeks so I have to get serious about the boiler. I went to an estate auction about a mile from my home last weekend and they had three vertical non-reversing engines. Two appeared to be 4X5's and one a 5X7. I had to leave for an hour in the afternoon and sure enough they were sold while I was absent. All were sold for the price of scrap iron. One was a very showy engine from the Nestle Company with a date plate showing manufacture in 1907. I bought one from the auction purchaser and it's now residing in a corner of the shop. A bit too big and heavy for a boat but will make a good lawn ornament.....Dave
Back to top
dwkoski
Just Starting Out
Joined: 26 Jul 2008
Posts: 5
Posted: Tue Sep 02, 2008 8:44 am Post subject: Blackstaffe boiler
I have finished reading the two articles in Steamboats on Blackstaffe boilers and have a question for those familiar with these boilers. Any idea of the wall thickness and pressure vessel diameter on the earlier Bolsover type Blackstaffe? The information is much more complete on the later Yarrow type with Ofeldt style coils. I realize the later boiler is more compact but I prefer the appearance of the former. Would the earlier version have sufficient size and heating surface for a 3x4 single? Also, any idea of th dimensions of the laterals into which the coils are brazed?
Back to top
mcandrew1894
Full Ahead
Joined: 11 Oct 2007
Posts: 149
Posted: Tue Sep 02, 2008 6:18 pm Post subject:
Hi,
As far as particulars, the stubs or "laterals" can be defined by the "yarrow" style boiler in Steamboats and Moderns Steam launches"
Actually, I think vertical boiler is listed in there also. I believe there is an artical in there on it.
Here are a few others:
"Sequal to Sparky" September/October 1962
Loco Foco January/February 1962
and specifically ( I found it)
A watertube Launch Boiler November December 1961
Additionally, if you check the "yarrow style" article, you will find I believe , and check it please, that the author, Mr. Blackstaff, states that he is using sch 40. Remember that if your building it, it's your responsibility to make it safe, so do the engineering and be careful.
Dave
Back to top
artemis
Just Starting Out
Joined: 24 Sep 2007
Posts: 19
Location: Portland, OR, USA
Posted: Tue Sep 02, 2008 8:37 pm Post subject:
As to the gauge of the pipe: The price differential between Sch. 40 and Sch. 80 is not much and the Sch. 80 is a lot STRONGER. And since the bottom laterals are right down near the fire zone, the stronger the better.
To determine the inside diameter: take the number of tubes going into the lateral and mutliply that by the inside area of one of the tubes. From that you will have the total area needed to supply water to those tubes. Divide by pi, find the square root, then multiply by 2 and you've got the inside diameter.
Back to top
mcandrew1894
Full Ahead
Joined: 11 Oct 2007
Posts: 149
Posted: Thu Sep 04, 2008 4:23 am Post subject:
My drums are sch80 SA106 also on my Blackstaffe. My generating tubes are 1/2" OD type K copper
Dave
Back to top
P.F.Cuthbert@Classicfm.ne
Steam on Deck
Joined: 24 Nov 2007
Posts: 52
Location: Cheshire, UK
Posted: Mon Oct 06, 2008 4:24 pm Post subject:
Dear Steamboaters
Can I raise another query about the Blackstaff design? I am currently drawing up my own version based on the SBA Library design, but using dimensions and shapes provided by the tube manufacturer.
The aim is to have 8 coils per side, so the steam drum is a 6" X 2 1/2" tee, plus a length of straight 6" tube with the rounded caps at each end. All that lot are to Schedule 40 as specified in the SBA design and give a length of about 60cm.
My question is whether it would be good practice/bad practice to install the downcomers across the end cap weld seam where they join the tee at one end and the extension pipe at the other.
The only way I can see to avoid this is to have a longer extension piece. However the downside of that is that the end caps stick out rather far (89mm) because they are domed rather than flat.
As ever your musings would be most welcome.
Pete C.
Back to top
artemis
Just Starting Out
Joined: 24 Sep 2007
Posts: 19
Location: Portland, OR, USA
Posted: Tue Oct 07, 2008 1:48 pm Post subject:
1. I realize that the SBA design is engineered, but I would personally feel more comfortable with Sch.80 for any tubes exposed to the fire;
2. I don't know about UK standards, but I do not believe that drilling through a weld and welding another tube at that point would pass ASME requirements;
3. Why not build the downcomer(s) as Kelly Anderson did. Much cleaner design, allows for additional heating surface (you can never have too much), or alternatively allows for your 8 coils with needing additional space; and if you use Sch.80 for the mud drum,downcommer, and steam drum, it will support itself.
Back to top
P.F.Cuthbert@Classicfm.ne
Steam on Deck
Joined: 24 Nov 2007
Posts: 52
Location: Cheshire, UK
Posted: Thu Oct 09, 2008 4:09 pm Post subject:
Dear Ron and fellow steamers
Thanks for the suggestions. Doing a Schedule 80 substitution would be as simple as pie. I will probably follow that advice unless the Boiler Inspector objects (which I doubt).
Mr Anderson's design sounds super and has some appeal. However, here in the UK it would probably require us to get an engineering assessment done. I suspect that the change is sufficiently large that the Insurers would insist. I was recently quoted 2,000 GBP plus 17.5% Tax in relation to another design that I though could/should be modified, which is rather more than I am willing to pay.
So, a slightly longer, stronger, sleeker, boiler will emerge from the drawing board shortly...!
Good steaming.
Pete
steamboatjack
Urchin
Joined: 01 Oct 2007
Posts: 39
Posted: Sun Oct 12, 2008 8:06 am Post subject: SBA boiler design
Hi
Ian Whatley has built a boiler to the SBA design, the downcomers are just
on the main drum side of the end cap weld. The downcomers are not in the way of the generating tubes and so do not reduce the amount of tube rows available. I can't therefore see any need to modify these aspects.
Another alternative design in the SBA system is by John King which has the drum ends secured by stays with no welding used at all, This is an updated arrangement of a system first used I believe by lune valley.
Johns boiler is a three drum design whereas the lune valley one was two drum.
I have used a two drum version for a number of years, access for inspection is total, and they are easy to make, the hard part with a blackstaff in my view is the brazing all those tube ends into the welded sockets. with the other design the tube are expanded, and therefore easy to renew.
As a boiler inspector I am wary of the blackstaff design due to its lack of access.
best regards
jack